As a participant in two major open studios, I am pleased to invite the public to my studio twice a year. Kicking off with an exhibit in January at the Richmond Art Center, I open my doors to my studio the first weekend in March as a participant in "The Art Of Living Black self guided tour" the only major showcase of African-American artists in northern California. Secondly, the first two weekends in June, I participate in the "ProArts Gallery Open Studios event," a diverse showcase of local artists of the east bay of the greater Oakland/San Francisco area.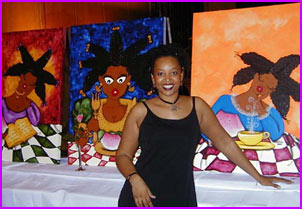 winter...
THE ART OF LIVING BLACK 2016 (TAOLB)
20th Annual Bay Area Black Artists Exhibition & Art Tour
13 Jan-03 Mar
Richmond Art Center
2540 Barrett Ave, Richmond
ARTIST'S RECEPTION
Sat 06 Feb
12pm-5pm
Please join me for this wonderful exhibition that showcases SF Bay Area black artists!
Refreshments.Artsy Conversation.Art.Hugs.

TAOLB OPEN STUDIO 2016
karinsArt SOLO EXHIBITION @
Creative Framing & GALLERY
2700 PARK blvd, OAKLAND
3 Opportunities to see this exhibit:
OPENING ARTIST'S RECEPTION
FRI 08 JAN 2016
6pm-9pm
CLOSING ARTIST'S RECEPTION
FRI 05 FEB 2016
6pm-9pm
TAOLB OPEN STUDIO TOUR DAY
*Sat ONLY 27 Feb* 2016
11am-5pm
Please make this Supportive Gallery in our community a stop on your TAOLB ART TOUR! I'll be gifting a special karinsArt celebratory TAOLB 20th commemorative item to EVERYONE who visits! karinsArt paintings,prints.gifty items,& Luscious H2oMelon™ teapots for purchase.. Bring a Friend- or two! karin

BLACK LOVE EXHIBIT 2016
JanRae Gallery@ Women's Cancer Resource Center
5741 Telegraph Ave,.OAKLAND CA
21 JAN-24 MAR 2016
aRTISTS' RECEPTION
THU-21 JAN 6-9pm
All welcome. This event is free

SOUTHERN CAFE - ANTIOCH CA
KarinsArt will be adorning Southern Cafe's Newest Location!
Stop by for something delicious from this eatery! Artwork available for purchase.
400 G street,Antioch CA


spring...
KARINSART- COMMISSION SESSION
01 APR-15 MAY 2016
CERAMICS GLASSES & ORIGINAL PAINTINGS commissions accepted.
?Still needing that Luscious teapot/mug, or wine glass set you missed out on? Contact me for details to arrange something painted JUST4U!


summer...
CAPITAL JAZZ FEST 2016
COLUMBIA,MD, MERIWEATHER POST PAVILLION
1st weekend JUNE

ESSENCE MUSIC FESTIVAL 2016
NEW ORLEANS, MORIAL CONVENTION CTR.
01-02-03 JULY (fri.sat.sun)
My 10th Anniversary @ ESSENCE!


autumn...
KARINSART Open Studio 2016
13th AUG 2016 (sat.)
12PM-8PM...
Sunshine Biscuits Lofts
851b_81st Ave #200, Oakland
Welcome to my New Private Studio Home.
Refreshments.Cocktails.Hugs.& Art.Probably dancin' too...

Art & Soul Fest Oakland 2016
20-21AUG 12-6p (sat.sun)
downtown oakland

Oakland's Black Eyed Pea Festival 2016
MOSSWOOD PARK, BDWAY&WEBSTER st.
SEPT 2016(sat) hours TBA